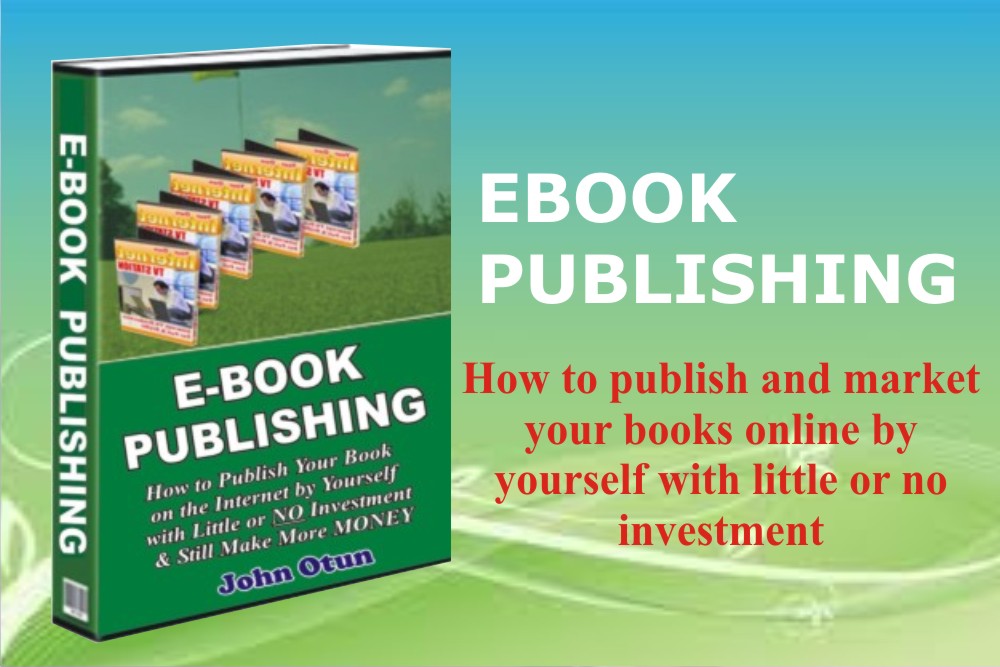 E-book Publishing is an electronic book publishing, and is a way of converting your finished manuscript in word processing format into a PDF file for the purpose of online distributions or sales as a downloadable product.
Looking at the trend of things globally, we will realize that everything is changing because of the advent of internet. Availability of the internet is making things simple and you can get any information you want to get at the tip of your fingers. Internet is now making the way we produce and market our books different from the old ways.
Now you can avoid so many problems that associate with book publishing from writing of your manuscript, editing, raising fund to publish, problems of the printer or publisher to the problem of the marketing of the book by publishing your book electronically. You only need little or no capital to publish your book electronically which is far different from the old way of publishing book.
Do you know that the book you have published so many years ago and the one you are just writing can reach all over the world and impact lives within a few minutes by publishing your book electronically.
Knowledge of E-Book Publishing is an opportunity for anyone to publish his or her books on the internet and reach wider audience and still make more profit without any stress.
4 BENEFITS OF EBOOK PUBLISHING WITH US
1. We will build a free mini website, e.g (www.you.blogspot.com) for you to market your books to the whole world.
2. Your book will be published in two international websites including amazon (the biggest ebook seller in the world) where you will be paid in Dollars quarterly when your book is sold.
3. We will put your book on Christian Writers website www.christianwritersassociation.org and Rightway Christian Bookstore www.rcbookstore.com . You will be paid quarterly when your book is purchased.
4. We will give you an ebook (E-BOOK PUBLISHING – How you can publish and market your books online and make more profits) to help you in this journey.
All these will be done for just N20,000.00 only.
Please carefully fill this form below to tell us about your book.
BOOK PUBLISHING REQUEST FORM
Follow these instructions:
1. Pay N20,000.00 only to any of these Bank account numbers:
Guaranty Trust Bank Plc (GTB)
Account Name: OTUN JOHN
Account Number: 0035663101
First Bank PLC
Account Name: OTUN JOHN
Account Number: 3030435938
After payment, text "Your name, Bank name, Teller number and amount you paid to 07064503055"
2. Make ready your typed and corrected manuscript in MS Word format (Soft Copy)
3. Scan the Book cover (If you don't know how to design the cover we will help you design one for just N2000.00)
4. Scan your Passport size photograph.
5. A brief introduction of the book (About the Book).
6. Your brief biography (About the Author).
7. You Bank detail (Bank Name, Account Name and Number)
8. Three customized names (domain name) you want for your website, like www.yourname.blogspot.com, www.yoursite.blogspot.com
* Send all these documents as attachment to this email address: rightwayglob@yahoo.com